Harvest tyre technology can help you to improve the productivity of your combine harvester, find out how ...
Maintenance is obligatory for a good start-up and to ensure the machine is in top condition to guarantee a perfect harvest with no breakdowns.
When you start your spring cleaning, think about improving the performance of your harvester and simply by changing your tyres you can increase your load by 55%.
You know that it's the moment to spend some time on your combine harvester to ensure a rapid harvest with no breakdowns. You know your machine and you will methodically tighten the belts, grease the chains and cogs, check that no rodents have been near the electric circuits during the winter, turn on the engine and let it idle to listen out for any abnormal vibration which would enable you to detect any problem and have the necessary work done in time.
But have you asked yourself if you could improve your combine harvester?
How do you improve the work ratewith your old harvester without tiring it out more?
Whether it's recent or it has more than 3,000 hours of loyal service, you can make it more productive.
Offer it harvest tyres which bear more load
You will increase your load capacity, you won't need to stop between changes in trailer, you will win time and those hours saved might just mean a successful harvest because everything will have been stored away in a dry place before that storm that often threatens on the night of the harvest.
CFO (Cyclic Field Operations) technology tyres are designed to handle a much greater load than discount agricultural tyres or cheap agricultural tyres thanks to their robust casing which increases their durability, their solidity and their reliability.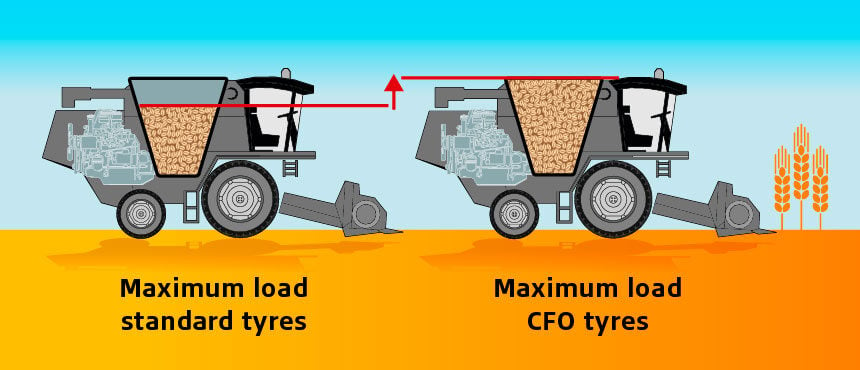 The new IF or VF CFO tyres are even more high performance. The load distribution and the construction of the special sidewalls allow much more flexion of the tyre and a greater surface area in contact with the ground and less crop compaction despite the weight.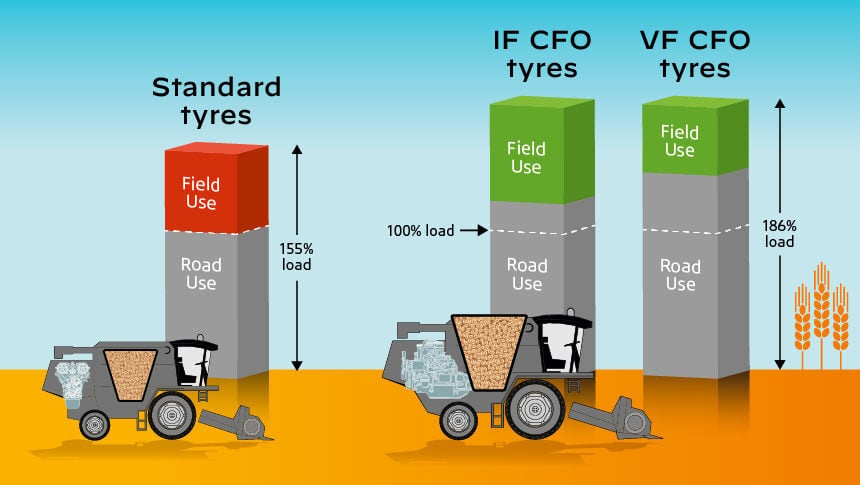 Easily increase the productivity of your combine harvester
These new harvest tyres have no impact on your machinery's mechanics and do not affect its technological level. Don't we all dream of the latest harvester, which is faster, more electronic…. All eyes are turned towards the latest, more brilliant model, but it's often the oldest equipment on your farm that pays your bills. So, a new set of IF/VF harvest tyres is a good way to embark on a further 3,000 hours work at little cost while increasing your productivity.
Choosing the best tyres for your combine harvester will stack the odds in your favour at this crucial time of the year when your equipment is pushed to its limits.
---
Download this free brochure to find out more about this tyre which allows you to increase your load, offers impressive traction, is comfortable to drive and is incomparably robust.
The Bridgestone-agriculture.eu blog is written and administered by tractor tyre experts who are available to provide you with the advice you need on the subject of your agricultural tyres. They allow you to maximise your productivity with information on all subjects linked to tyres: Cheap tractor tyres – Technical data for agricultural tyres – Solutions to avoid soil compaction – Sprayer tyre pressure – Why and how to ballast your tractor tyres – The mechanical causes of abnormal wear – Cheap agricultural tyres – etc….
---
Most people who read this article have also read some of the following articles: