If you have always had a doubt about the link between your tractor tyres and your fuel consumption and you have convinced yourself that just by driving a little slower on the road you can reduce the cost…..
Then think again! There is a direct link between your tractor tyres and your fuel consumption and those who have understood this manage to reduce their fuel consumption by 30%.
Given that fuel represents one of the highest annual expenses for a farm, it's probably worth knowing what you can do to really reduce the bill.
This article will show you the different solutions possible to reduce your fuel consumption:
Adapt your tyre pressure,
Spread the weight better between each axel,
Reduce tyre pressure and engine speed at the same time,
Opt for wider low-pressure IF or VF tyres.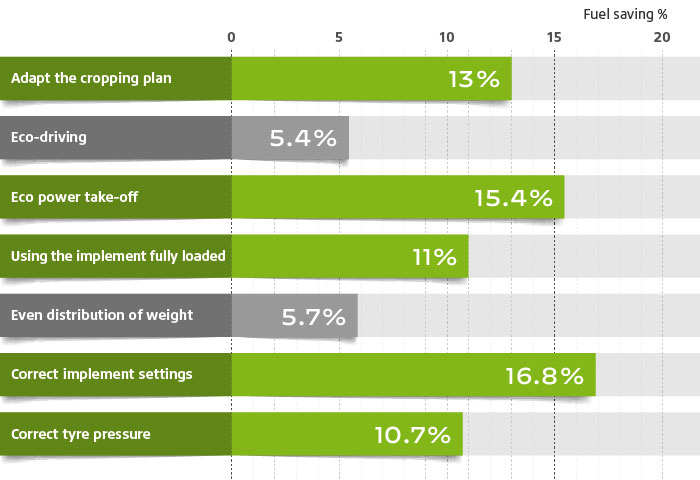 1. What is the impact of adapting tyre pressure?
Tillage, transport, harvest… a farm tractor's tasks are multiple, but its polyvalence sometimes requires a certain number of adjustments.
Among these, the choice of pressure for your agricultural tyres is one of the main factors which have the highest impact on your vehicle's fuel consumption, although this adjustment is now easier thanks to the widespread use of onboard compressors.
By adopting the right pressure on the road and in the fields, it is possible to make substantial fuel savings. Many farmers are already familiar with the efficiency of a remote inflation system.
Just to be certain, we carried out tests with three types of (front/back) tyre pressure settings during a sowing campaign:
Transport by road: the ideal maximum pressure to make fuel savings on asphalt is 1.57/1.78 bar.
---
Work in the fields: to reduce fuel consumption during tilling for example, a minimum pressure of 0.50/0.97 bar is recommended.
---
Heavy work in the fields: when transporting heavy loads in the fields, such as during harvesting, it is better to adopt an intermediary tyre pressure, in line with manufacturer recommendations, i.e. 0.60/1.39 bar.
---
Contrary to popular belief, it is not the minimum standard pressure of 0.50/0.97 which allows you to consume less, but the lowest pressure based on the actual load borne by your tractor.
Thanks to this type of adjustment, we were able to save up to 10% on fuel, because slippage was reduced to a minimum and the work output per hour increased by around 3.5% per hectare. You can make fuel savings of up to 15% by being well informed and paying attention to the technical advice given by the tyre suppliers.
2. Does weight distribution affect consumption?
In farming, fuel expenses represent 30% of energy consumption. You therefore need to reduce fuel consumption to limit your operating expenses, given that this depends on several factors such as:
The type of soil
The humidity level
The work speed
The quantities to harvest
Tool settings and maintenance
The size of the fields
The distance between the farm and the fields
The behaviour of the driver
During our tests, we compared the passage of the same vehicle with its tool with no load or additional ballasting and we noted that this is adapted for transport but not for ploughing, then we tried with an additional load on the back axle to see if there was any change in the level of consumption. We then added an extra load on the front axle.
The additional loads allow your combination vehicle to have the best balance in terms of weight distribution per axle, in particular when tilling compacted sandy soil (like during our test). Again, the reduction in slippage enables fuel savings of 10.5%.
3. What solutions are there for reducing consumption during tillage?
On a farm, tilling is one of the costliest activities in terms of fuel. The first step is to adopt the right solutions to reduce consumption and optimise productivity. To do this, we carried out tests on light sandy soil with a good humidity level for tilling.
Our studies are based on adjusting tyre pressure and using reduced engine speed, with results which differ considerably:
By reducing only tyre pressure: it is possible to make fuel savings of between 15% and 18% depending on engine speed.
---
By reducing only engine speed from 1800 to 1600 tr/min: the fuel savings vary between 8% and 12% depending on tyre pressure.
---
The best result is obtained by reducing tyre pressure as far as possible and engine speed at the same time. This allowed us to make the largest fuel savings of up to 25%.
If you think that these solutions are complicated to implement, there is still another option, namely the use of low-pressure VF tyres. By equipping your tractor with this type of tyre instead of the original mount, you will be able to reduce fuel consumption on a long-term basis.
Top of the range IF or VF tyres are designed to bear a load of up to 40% more than a standard tyre over the same distance and at the same speed.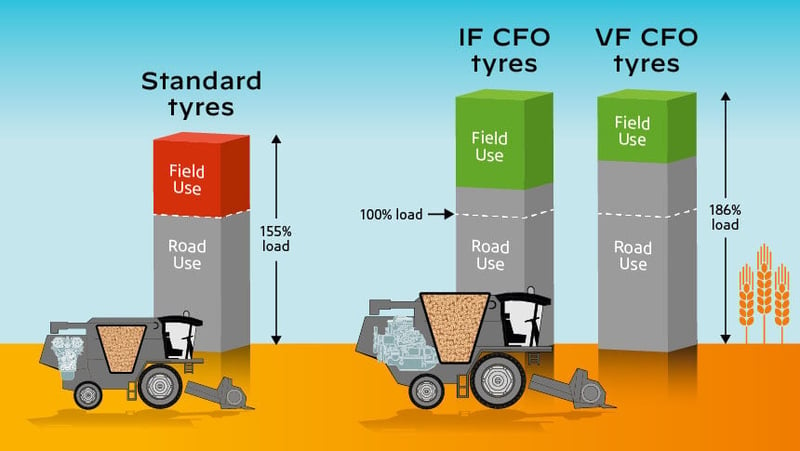 4. Does the size of your tyres have an effect on consumption?
Many farmers tend to think that fuel consumption is only due to speed or slippage.
In practice, several parameters may impact fuel consumption and the size of the agricultural tyre is one of them.
Whilst we were able to reduce our fuel consumption by around 5% by adjusting the pressure of our tyres, other tests have shown that the use of large, wider tyres together with this technique make it possible to save up to 30% on fuel. Indeed, the extra width increases the contact patch, which then makes it possible to reduce pressure and soil compaction while increasing the vehicle's traction.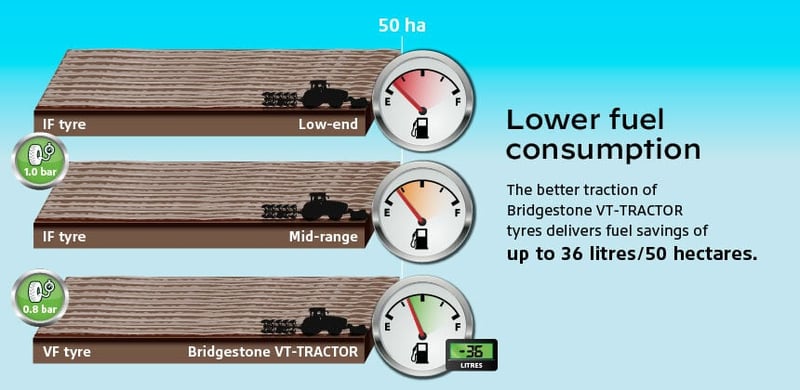 Nonetheless, we must point out that the dimension of your tyres must be adapted, in particular based on:
Your use of the tractor
Its power
The type of soil
The overall dimensions of your tractor
The gear ratio
Not convinced yet of the need to replace the original mount of your tractor?
Yet it is important to know that only wide, low-pressure tyres will allow you to work on loose or heavy soils, whatever the weather and the load carried by your tools.
Good to know: if you wish to increase the diameter of your wheel as far as possible, you will need to choose a smaller rim to ensure that the volume of air is optimal.
---
The Bridgestone-agriculture.eu blog is written and administered by tractor tyre experts who are available to provide you with the advice you need on the subject of your agricultural tyres. They allow you to maximise your productivity with information on all subjects linked to tyres: Technical data for agricultural tyres – Agricultural tyre performance – Air pressure advice – Solutions to avoid soil compaction – Sprayer tyre pressure – Why and how to ballast your tractor tyres – etc…
To take it one step further and increase the profitability of your farm, les Experts du pneu provide a free, highly detailed eBook which explains the essential role of the agricultural tyre in your productivity..
Most people who read this article have also read some of the following articles: