In general, your tractor's pulling power is associated only with its engine power.
However, tyres play a fundamental role in improving traction and are widely underestimated or neglected. It is the tyres which transmit your tractor's power to the ground to generate the tractive force. Your tyres are therefore the sole link between vehicle and ground.
By taking special care when choosing and maintaining your tyres, you can optimise your vehicle's tractive force, improve yields and productivity and reduce tractor slippage.
Which are the best agricultural tyres to improve tractive force?
Agricultural tyres play a vital role in your tractor's pulling power. Its tractive force depends on several variables linked to the intrinsic qualities of these tyres and to their maintenance:
The lug design of your tractor tyres increases the tractive force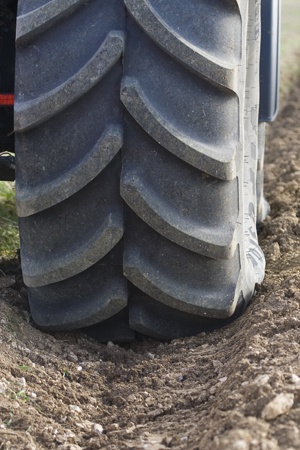 There are lugs or knobs on the surface of your agricultural tyres. They dig into the ground and limit slippage which leads to loss of grip for your tyres. Their angle compared to the axis of the wheel affects your tractor's pulling power.
The shallower the angle, the greater the tractive force. Most agricultural tyres are designed to offer the ideal angle.
But beware! Do not opt for a discount agricultural tyre with an angle that is too shallow because this causes the accumulation of earth between the lugs.
Too much earth and mud in the tyre footprint may reduce grip and increase slippage. But the slip ratio must be closely controlled because it makes it possible to transmit tractor power to the ground to produce tractive force. It must be between 12% and 15%.
If slippage is too high, the tractor may get stuck in the mud.
In addition, the higher the slippage ratio, the higher your fuel consumption.
Ideally you should choose an agricultural tyre from among the new models which offer a multi-angle design. The lugs are positioned at different angles to the centre of the wheel.
This allows an ideal compromise between evacuation of mud and optimal tractive force.
Certain tyres even offer a lug design which optimises traction. It's the penetration of the lug into the soil which allows torque to be transmitted to the rim. Optimising the tyre profile leads to an improvement in transmission capacity. The greater the lug contact with the soil, the higher the tractive force.
Your tractor's pulling power depends on tyre inflation pressure
Less pressure means more contact surface between the ground and your tyres and therefore better motricity. Inflation pressure must therefore be reduced as much as possible.
But an underinflated tractor tyre on the road will lead to excessive lug wear. Its rolling resistance is too high.
Furthermore, an overinflated tyre causes excessive soil compaction. Depending on the type of work to be carried out or the ground over which you are driving, the pressure in your tyres cannot be the same.
It is therefore necessary to check and adapt tyre inflation pressure in order to obtain optimal tractive force.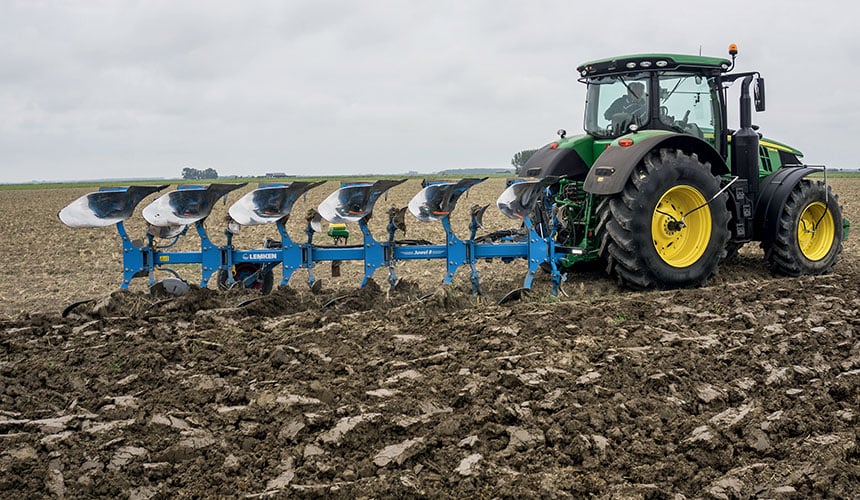 For example, if you have ploughing or harvesting work to do, the tractive force required is greater than if you are spreading fertiliser or during transport. This is because the tools attached and the machines used are heavier. The load on the back axle (or even front axle) is greater. In this case, a low-pressure tyre with a wide footprint is recommended. This makes it possible to decrease the pressure on the ground because there is less soil compaction with a low-pressure tyre. Your soil will be preserved, because less compacted, and your yields will improve as a result. IF and VF technologies allow for a weight of 20% to 40% more compared to a standard tyre.
For all different types of work, there are considerable advantages to using wide VF technology tyres.
They do not require pressure adjustment to suit the work to be done. Your tractor's pulling force is optimised whether you are on the road or in the field.
There is also a guaranteed time saving: there is no need to adjust your tyre pressure every morning. Your tyres will also have a longer lifespan. A tyre that is over or under inflated is effectively likely to wear more rapidly.
A good slip ratio is essential to optimise traction
Limited slip improves tractive efficiency. The slip ratio is linked to the air pressure in your tyres. To be optimal, it should be between 12% and 15% to provide sufficient tractive force without excess wear to the tyres and without soil compaction.
Opting for VF tyres ensures an optimal slip ratio because VF tyres provide greater grip and motricity thanks to the low pressure and wider tyre footprint.
What are the benfits of a controlled tractive force?
Choosing the right tyre, adapted to the tractive force required, allows you to control your tractor's pulling power. Efficiency and productivity improve and you save on fuel.
You use up less fuel and your tyres wear less quickly. Thanks to quality agricultural tyres you avoid soil compaction and improve yields considerably.
---
The Bridgestone-agriculture.eu blog is written and administered by agricultural tyre experts who are available to provide you with the advice you need on the subject of your tyres. They can help you to maximise your productivity with information on all aspects related to tyres: Technical data for agricultural tyres – Agricultural tyre performance – Air pressure advice – Solutions to avoid soil compaction – Sprayer tyre pressure – The 6 principal mechanical causes of abnormal wear to your tractor tyres – etc….
To learn more and boost your farm's profits, tractor tyre experts is offering you a free, detailed eBook that explains the essential role your agricultural tyres play in your productivity.
Most people who read this article have also read some of the following articles: