When the time comes to change your tractor tyres, you will most likely ask yourself if a cheap agricultural tyre is really the best choice?
Your need to reduce costs and the current economic situation may naturally encourage you to choose a cheap farming tyre or to look at the latest deals.
However, contrary to appearances, a new, high quality VF tyre, while being more expensive to buy, will actually be more profitable and will save you several thousand euros in the long run. Here's how and why:
For sure a discount agricultural tyre or an exceptional offer from your retailer on an unknown brand can seem like an obvious immediate economy. The budget will be low in the initial purchase. However, over time, you will incur a substantial increase in costs and problems in the following order:
1. Overconsumption of fuel
2. Frequent spinning
3. Rolling resistance
4. Cutting the soil
5. Impossibility to plough in wet weather
6. Fragility of sidewalls
7. Substantial vibrations
8. Obligation to constantly monitor pressure
9. Quick wear
10. Frequent replacing…
You need to take a closer look before jumping on the first cheap tyre that presents itself, to realise that this quick initial saving may not be the best choice or the most profitable for your farm.
A new VF agricultural tyre (more expensive to purchase) will save you 677£ in fuel per year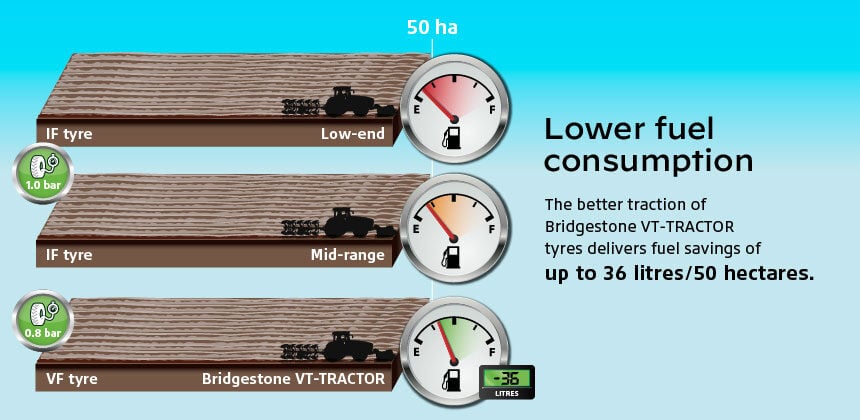 Savings on fuel consumption in the first two years will bring you down to the price of a discount agricultural tyre. As of the third year, the difference in consumption is directly transformed into net profits, without even considering the other advantages of this type of technology.
4 additional reasons for choosing a VF tyre
1. VF technology tyres can carry a heavier load
To illustrate this, a simple calculation: an IF tyre can carry up to 20% more weight than a standard tyre and the VF tyre can carry up to 40% more, for equivalent speed and distances.
2. They do not require constant pressure adjustment
This is a huge advantage. No more problems due to the use of incorrect pressure: it is no longer necessary to change the tyre pressure when changing from one type of ground surface to another or for substantial driving speed variations. This evolution saves time and increases comfort for farmers who are increasingly pressed for time, and don't always know which pressure to use on the road, on deep or chalky soils. Be careful to adjust the pressure depending on the weight of the tools.
According to constructor tests, for an equivalent load, a low-pressure VF tyre allows you to reduce the pressure by 40% at 50 km/h and by 30 to 40% at 30 km/h.
Another advantage: contrary to standard tyres, the VF casing can go as low as 0.8 Bar while a standard farming tyre cannot go below 1.2 Bar.
3. VF tractor tyres protect your soil
Soil compaction is one of the primary preoccupations of cereal farmers and farm workers. In terms of agronomics and soil preservation, VF tyres are the whole package. With lower pressure, they limit soil compaction, have a more evenly distributed footprint and reduce spinning.
This agricultural tyre appears to be a credible alternative to dual wheels which represent a higher initial investment and maintenance costs. With this type of tyre, which is not bigger than a standard tyre, the tread mark will be larger, generating more traction, less rut creation and therefore less work to restore the field.
4. They guarantee better productivity
Low pressure tyre, larger tread mark, higher agricultural tyre load index… QED, VF farming tyres guarantee better productivity. Tests and feedback have shown that this technology enables you to work on more hectares in the one day. An increase in productivity which can be added to the reduction in fuel consumption.
Test: cheap standard tractor tyre compared to VF tyre
Below are the results of a test carried out in real working conditions, with standard tyres used with optimal pressure for the type of soil and the tasks to be carried out, and with VF tyres, on the same tractor and in the same conditions:
STANDARD TYRES
Optimal pressure
VF TYRES
Front
Rear
Front
Rear
Size
540/65R28
650/65R38%
600/60R28%
710/60R38%
Pressure
1.1
1.3
0.8
0.9
Slip ratio
14.5%

11.5% (+20%)

Consumption
16.5 l./ha
15.3 l./ha
Price full 4 wheels

€8462 excl. Tax
€10 142 excl. Tax (+20%)
The superiority of VF tyres is evident: -20% of spinning and -7% in fuel consumption compared to a standard tyre inflated to optimal pressure.
The advantage of VF casings is in not having to adjust the pressure to suit the driving speed. This generates additional comfort and reduces the risk of damaging the casing due to incorrect pressure.
Choosing to purchase a new, high-quality agricultural tyre is often profitable in the long run, there are so many advantages to a high-quality VF tyre that it will pay for itself very quickly.
---
The Bridgestone-agriculture.eu blog is written and administered by tractor tyre experts who are available to provide you with the advice you need on the subject of your agricultural tyres. They allow you to maximise your productivity with information on all subjects linked to tyres: Cheap tractor tyres — Technical data for agricultural tyres — Air pressure advice — Solutions to avoid soil compaction — Sprayer tyre pressure — Why and how to ballast your tractor tyres — When to use dual wheels — The mechanical causes of abnormal wear — Cheap agricultural tyres – etc…
To learn more and boost your farm's profits, Bridgestone-Agriculture is offering you a free, detailed white paper that explains the essential role your agricultural tyres play in your productivity.
Most people who read this article have also read some of the following articles which are listed by order of popularity: