Your tractor tyres are worn and must inevitably be changed.
Of course, it's tempting to opt for a cheap or discount agricultural tyre - low-cost, unknown brand - with the evident advantage of an immediate reduction of costs. You may feel like you got a good deal and saved on costs.
But is this really the best choice? In use, will this really be the best option and after a few ploughing operations aren't you likely to regret saving on this item?
Well done! You saved a few thousand euros on your tractor tyres
It's during the first ploughing operations in wet conditions that things begin to get complicated: as the link between your machine and the ground, it's your tyre that transmits power to the ground and enables the movement of your tractor, its trailer attachment and more globally the full load of your machinery.
1st observation: self-cleaning is impossible in wet conditions and slippage is inevitable
A discount agricultural tyre often has a simple design: to save on materials, the casing is more rigid and requires higher inflation pressure to avoid breaking the sidewalls. This leads to the accumulation of earth stuck between the lugs when it is wet, the tyre loses grip, rolling resistance increases and the slip ratio also.
Your tractor needs to develop more power which will not be converted into work. The sliding of the tyres leads to excessive smoothing of the furrow bottom which will harden the plough pan.
RESULT: slowdown of work, increased fuel consumption, alteration of the soil
2ND observation: obligation to change tyre pressure constantly
A cheap agricultural tyre is not designed to be optimal in the fields and on the road, it's an economic compromise by the manufacturer with the aim of doing a bit of both. It is therefore your job to compensate for this average product quality by making sure pressure is always optimal depending on the type of ground.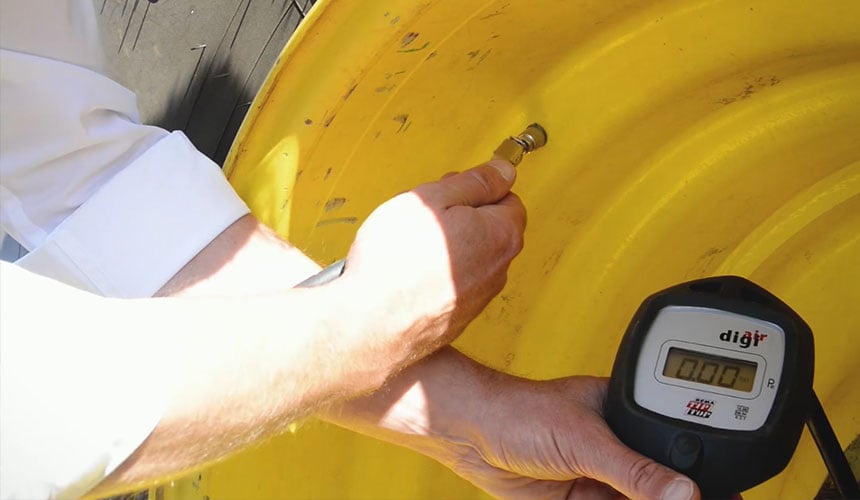 Unfortunately, if the earth is loose, you cannot work with tyre pressure of less than 1.8 to 1.6 bar and as a result your tyre will sink further into the soil than a low-pressure tyre, leading to significant soil compaction. The cushioning ability of this type of tyre, linked to pressure that is too high, and the generally simplistic design of the lug structures lead to a permanent increase in the level of vibrations felt in the cab. It will be absolutely essential to change tyre pressure between road and field.
RESULT: loss of time, increase in vibrations, soil compaction and decrease in yields
3RDobservation: rapid wear leading to short tractor tyre lifespan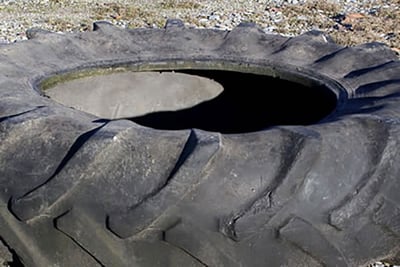 Cheap or discount agricultural tyres are designed to look new like the big brands, but don't be misled: the rubber used is necessarily cheaper, in general synthetic and not natural, with no adjuvant to improve its resistance and its flexibility.
The pressure must always be high to compensate for the load, and the effect of driving on the road will be much more abrasive on a soft rubber than on a quality tyre.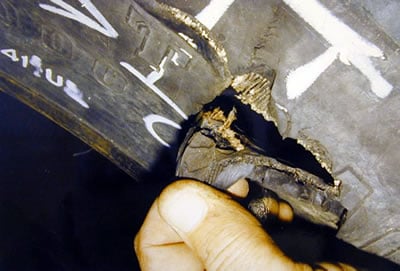 In the fields, the risk is on two levels: if the pressure is too low, casing that is not sufficiently flexible will break, leading to the immobilisation of the tractor, or its sidewalls, which in general are not reinforced, will be extremely sensitive to cuts caused by stone or flint.
RESULT: rapid wear, higher risk of problems going as far as immobilisation of the tractor, more frequent replacement
Reducing costs by buying low-cost agricultural tyres leads to operating costs that should certainly not be underestimated. You may end up wasting time as well as fuel, while provoking long-term damage to your soil and therefore reducing your overall productivity.
There are numerous advantages to high-tech VF agricultural tyres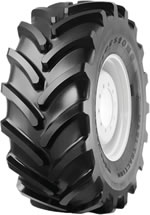 The more up-market you go, the more the agricultural tyre casings are reinforced, their sidewalls more flexible and resistant, their tread profile better designed. The lugs which make up the tyre tread enable good cleaning of the tyre surface even on clay soils, and their rubber compounds are improved and optimised.
A VF technology tyre is therefore more expensive but offers component quality that is incomparable and indispensable for optimum tractive force, a guarantee of better productivity.
They make changing tyre pressure unnecessary
A non-negligible advantage, eliminating problems linked to unsuitable tyre pressure, is that you no longer need to change tyre pressure between different types of ground. This development represents time savings and a real comfort for farmers who are always pushed for time, and who do not always know what pressure to adopt for the road and deep or calcareous soils.
The air pressure in the tyres can be minimal to increase the soil footprint and distribute the load better, without altering the tyre qualities:
A VF tyre can go below 0.8 bar compared to 1.6 bar for a standard tyre.
This low-pressure tyre produces an optimal slip ratio of between 12% and 15%.
IF and VF tyres can bear a much higher load, while driving at the same speed and over the same distance:
an IF tyre can bear up to 20% more than a standard tyre,
an VF tyre can bear up to 40% more.
The choice of a quality tyre is an investment that should not be underestimated. Good agricultural tyres represent a considerable budget but in the long-term they are more profitable and more productive than a cheap tractor tyre..
---
The Bridgestone-agriculture.eu blog is written and administered by tractor tyre experts who are available to provide you with the advice you need on the subject of your agricultural tyres. They allow you to maximise your productivity with information on all subjects linked to agricultural tyres: Cheap tractor tyres – Technical data for agricultural tyres – Solutions to avoid soil compaction – Sprayer tyre pressure – Why and how to ballast your tractor tyres – When to use dual wheels – The mechanical causes of abnormal wear – etc….
To learn more and boost your farm's profits, tractor tyre experts is offering you a free, detailed eBook that explains the essential role your agricultural tyres play in your productivity.
Most people who read this article have also read some of the following articles which are listed by order of popularity: