Spraying machinery is developing rapidly, bigger, heavier, more powerful and multi-purpose, it requires that you assess your tyres to ensure that you are not damaging your crops or causing harm to your soil.
Whether you are using a tractor with a sprayer or a self-propelled sprayer, you will need to drive on roads and in the fields in the best possible conditions, whatever the type of soil or driving speed.
On top of this, the time windows for spraying phytosanitary products are often restricted due to weather conditions (rain, wind, etc.) and it is not always possible to wait for the best weather conditions which would limit the impact of your machine on your developing crops and on soil compaction.
A new generation of narrow tyres designed specifically for sprayers
These narrow tyres are designed for towed or self-propelled sprayers. They have an increased load capacity, excellent performance on the road and traction in the field, and optimal self-cleaning capacity. They will help you to improve your yield as they are the only tyres which really protect your seedlings and their roots.
VF tyres use technology to increase your yield
Switching to VF tyres will improve your performance at high speed and increase the stability of heavy loads, while limiting damage to your crops and increasing the lifespan of your machinery for a better cost-efficiency ratio.
Better road holding for increased comfort
Thanks to improved lug and tread design, the latest generation of narrow VF tyres provide the best traction performance and the best road holding, with better precision driving and braking.
Improvement of the casing structure also provides increased shock absorption, reduced vibrations and noise for increased driving comfort.
Reduce the rate of wear to increase their lifespan
For this new generation of tyre, the D/E speed rating enables farm machinery to drive at up to 70 km/h (in compliance with legal speed limits), all of the rubber elements have been improved, the sidewalls are more resistant to cuts and also more flexible.
Their treads are larger and wider, the lug design has been improved for better distribution of the pressure on the ground. The tread is worn more evenly, and the tyre's lifespan is increased.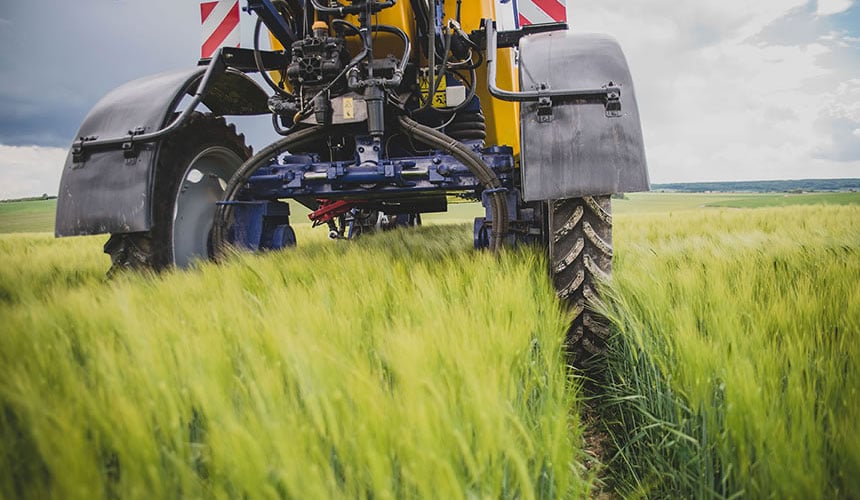 The dual angle technology of narrow VF tyres
This technology is unique and recognisable by the dual angle of its lugs. It improves traction with a wider ground surface contact than a standard agricultural tyre.
The specific design of its shape limits damage to the soil as the lug leaves the earth and contributes to the tyre's self-cleaning capacity:
the earth doesn't stick to the tyre,
spinning is reduced,
tractive capacity is greatly increased.
This tractive force enables you to cover a hectare in less time and to work more quickly, for greatly improved productivity.
---
To take it one step further and increase the profitability of your farm, les Experts du pneu provide a free, highly detailed eBook which explains the essential role of the agricultural tyre in your productivity.
The Bridgestone-agriculture.eu blog is written and administered by agricultural tyre experts who are available to provide you with the advice you need on the subject of your tyres. They can help you to maximise your productivity with information on all aspects related to tyres: Technical data for agricultural tyres - Agricultural tyre performance - Air pressure advice - Solutions to avoid soil compaction - Sprayer tyre pressure – Why and how to ballast your tractor tyres - The 6 principal mechanical causes of abnormal wear to your tractor tyres – etc….
---
Most people who read this article have also read some of the following articles which are listed by order of popularity: