You are well aware that your land is your most precious asset and your crop practices have evolved to protect this asset which can keep on producing for ever if you take care of it and respect it. The entire production chain may be improved as a result of this.
This process of transition from intensive farming which degrades the soil towards sustainable farming must take account of every aspect of your activity; land, seeds, treatments, but also the machines, fuel consumption and tyres.
It's not a question of taking a step backwards and producing less, but rather seeking out improvements which will benefit your long-term productivity.

Each part of your activity has something to gain from being more sustainable and more economical. Here is how a long-lasting agricultural tyre can have a positive impact on your profitability:
1. A long-lasting agricultural tyre must preserve your soil better
Soil preservation is essential to ensure good yields. More fertile soil guarantees optimal production. Several elements are involved in maintaining your soil in good health, with agricultural tyres representing one of the most important of them.
This kind of tyre reduces soil compaction
Excess soil compaction is one of the principal factors that damages the fertility of your land. This phenomenon can be avoided if you are equipped with good tyres.
You must use tyres that are adapted to your type of soil and the activity carried out by your machines.
More high-tech tyres which can work at low pressure have the advantage of significantly reducing soil compaction. Certain tyre technologies effectively allow you to work continuously at low pressure because the sidewalls are supple yet resistant.
They flatten out onto the ground more to spread the load over a larger contact patch.
They transmit more horizontal force than vertical pressure which damages the deep soil layers.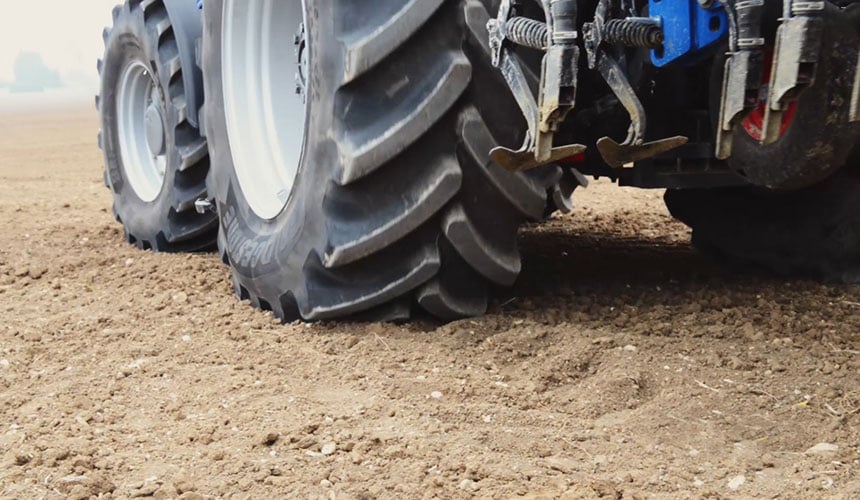 A tyre that gives you better control of the slip ratio
A small amount of slip is indispensable to ensure the forward movement of the tractor, but too high a slip ratio damages the arable soil, increases your fuel consumption and makes you lose time.
There are several ways of countering this problem and obtaining better traction.
These include working at low pressure of course, but choosing a tyre with a larger section width is also very effective.
By opting for a wider tyre with a larger contact area with the ground, thus good grip to optimise the transmission of torque, you will reduce rolling resistance.
---
A tyre with a higher load capacity for better productivity
High-tech tyres have a more resistant casing which enables them to carry more load than standard agricultural tyres.
Their longer and wider soil footprint offsets the weight and the size of large implements. In addition, it is possible to increase your load bonus by reducing your speed in the fields.
This represents a real advantage, especially when you wish to pull larger implements to improve your productivity.
2. A long-lasting tyre has a longer wear life
Choosing a long-lasting agricultural tyre will ensure that your equipment lasts over time, is more robust and resistant to wear on a long-term basis. The fact that you have to replace these tyres less frequently also means that overall this is a tyre that will have less of an impact on the environment.
It must have better resistance to wear
Certain premium agricultural tyres are designed with specific high-quality materials to guarantee a maximum useful life and thus much greater resistance to wear than the average tyre.
The tyres are made up of a mixture of several different materials to obtain resistant rubber whose mechanical characteristics will be perfect:
Natural rubber (the basic component): ensures the tyre's resistance, its adherence, its elasticity and its impermeability, 
Synthetic rubber (made from hydrocarbons): improves the rubber's resistance, 
Styrene-butadiene: improves the tread's abrasion resistance, 
Butadiene: reinforces the sidewalls' shock resistance.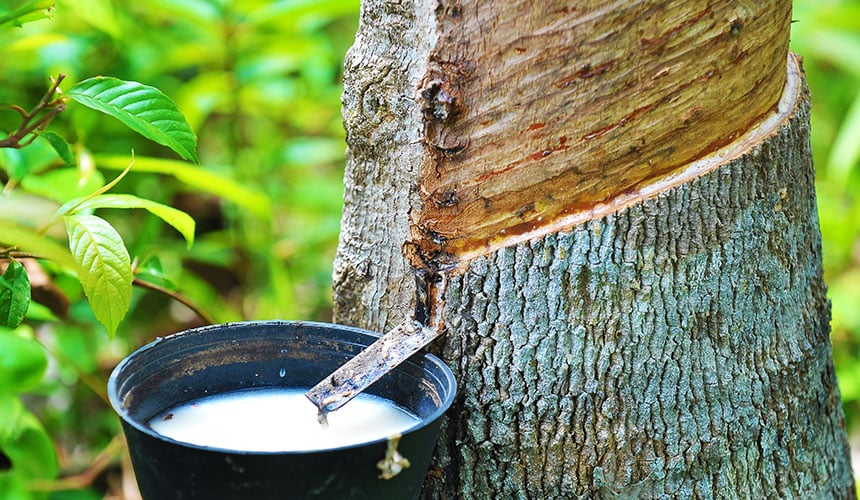 ---
It's the quality of the blend of these materials that will define the tyre's resistance capacity. This complex blend defines a technological tyre that ensures:
Increased resistance to wear, to cuts and to perforation,
More suppleness without affecting resistance,
A greater capacity to work at low pressure and therefore excellent soil preservation.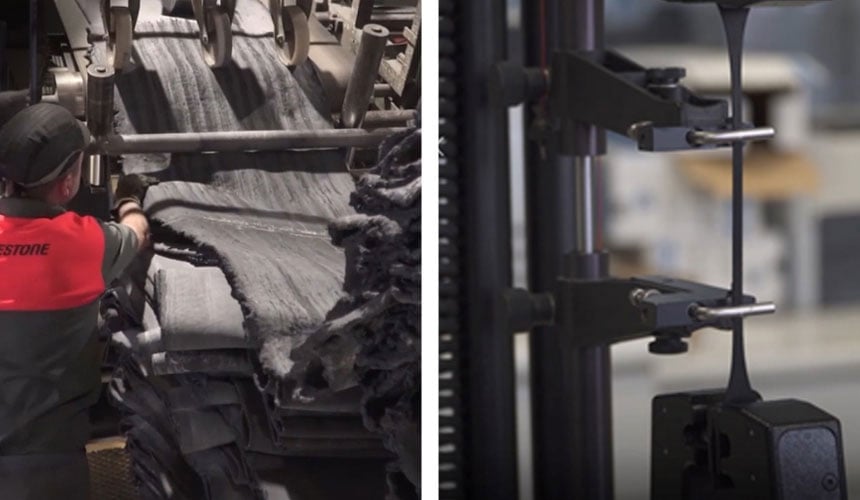 ---
The use of specific additives increases the lifespan of your tyres
You cannot tell by looking at a tyre what its rubber is composed of. Unlike discount tyres, high-tech tyres are designed to last longer.
Additives are added to the rubber compound to improve efficiency and extend the tyre's wear life by several thousand hours.
These additives include:
Carbon black: reinforces the rubber's mechanical resistance  
Zinc oxide: increases the tyre's resistance to rises in temperature
Protective agents (antioxidants): protect the rubber against oxidation by oxygen in the air or the ozone to prevent the sidewalls cracking due to exposure to the sun or over time,
Sulphur to guarantee the elasticity of the rubber over time,
Plant-based oils to increase the overall resistance of the rubber compound.
---
It must be built around a superior quality casing
The resistance of an agricultural tyre also depends on the quality of its casing. The more solid it is, the better the tyre's load capacity will be.
Your machine will be able to work with heavier, and as such bigger implements. For this, the tyre is reinforced thanks to complex, technical meshing within its rubber structure.
The casing is made up of several cross-ply layers of superior quality fabric (made of polyester, nylon or rayon) to improve its internal resistance while keeping its suppleness and dynamic characteristics.
This cross-ply composition also protects the casing against impacts, piercing and deformation.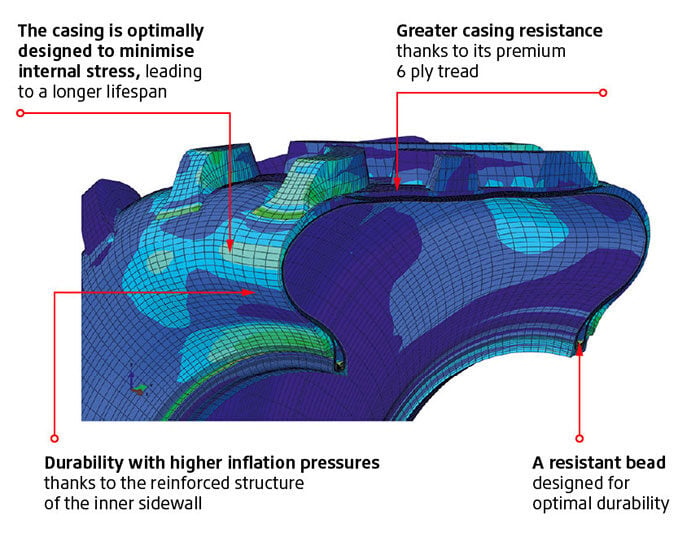 3. A long-lasting agricultural tyre allows you to reduce fuel consumption
We cannot talk about sustainable farming without mentioning fuel consumption. Speed and load are obviously the main factors that impact your consumption. But other factors may have an influence on your fuel consumption, especially your tyres.
Depending on their design, their structure, their capacity to reduce slip and their pressure, they will have a positive or negative impact on fuel consumption. If they are too rigid, they slip or have the wrong pressure settings, your fuel consumption will inevitably increase.
It is impacted both in the fields and on the road:
In the fields: a tyre that is too rigid or overinflated leads to increased rolling resistance as it sinks deep down into the ground, especially in wet conditions. The more you accelerate, the more you slip, and the more fuel you waste. The lug design, the traction capacity or the size of the soil footprint will also impact your fuel consumption.


---

On the road, on the other hand: A tyre that is too supple or overloaded will impact your fuel consumption. It will increase if you inflate your tyres to at least 2 bar. By opting for the right pressure, you can save up to 30% on fuel.


---
4. Choose an agricultural tyre with the "ENLITEN" durability label
You can recognise long-lasting tyres because they have the "ENLITEN" label on their sidewall, like the Bridgestone VX-R TRACTOR tyre.
This ENLITEN technology combines many parameters which make it possible to obtain a more longer-lasting tyre:
A design process that is more respectful of the environment,
Materials that are optimised for their durable characteristics,
A structure designed to reduce fuel consumption.
The VX-R TRACTOR tyre: a tyre that reduces fuel consumption
VX-R TRACTOR tyres have been developed to obtain an optimal lead ratio.
By choosing these revolutionary agricultural tyres, you will be working with a rolling circumference that has been optimised to ensure perfect synchronisation between the rear and front axle of your tractor.
As the two axles are perfectly synchronised, traction will be optimal and fuel consumption reduced.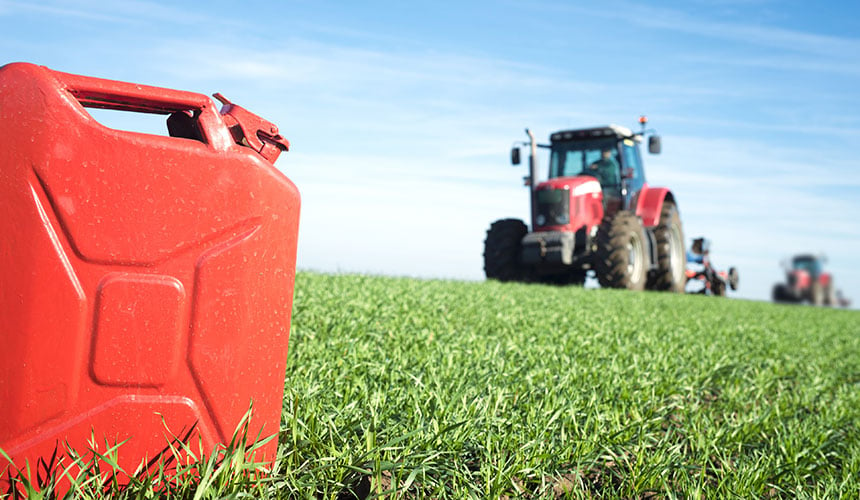 The width of the tread has been increased and corresponds to the tyre's nominal section width. This means that it can work with better energy efficiency.
In addition, these tyres are equipped with Involute design lugs which provide a perfect grip on the ground. This ingenious design significantly reduces rolling resistance while improving your machine's traction even further.
---
An agricultural tyre designed with more durable materials
The VX-R TRACTOR tyre was designed to ensure durability. Bridgestone's ENLITEN technology gives it an ability to last over time which is beyond compare.
The manufacturer has opted for a mixture of plant-based oil compounds to replace certain petrochemical products and boost resistance to wear and to tyre damage.
---
A better casing
Bridgestone's VX-R TRACTOR tyre has been optimised to obtain greater resistance, which is adapted to work in the fields as well as transport by road.
The bead has been reinforced and the plies have been adapted to the wide tread width.
The casing is more resistant to strain and to load which leads to a longer useful life.
---
A more sustainable production process
Like you, Bridgestone is committed to working on a more sustainable basis and to taking greater care of its environment by producing better quality tyres using more energy efficient production processes.
To achieve this objective, the manufacturer has chosen natural or recycled materials which are renewable and is optimising the transport of these materials to reduce its consumption and achieve carbon neutrality within a few years.
CONCLUSION
Working with tyres that have been designed to last longer, which are more robust and energy efficient is just as much a part of our improvement process as the profitability of your farm.
So if you invest in more high-tech tyres which have been designed to last, you will come out a winner in the long run.

---
The Bridgestone-agriculture.eu blog is written and administered by tractor tyre experts who are available to provide you with the advice you need on the subject of your agricultural tyres. They allow you to maximise your productivity with information on all subjects linked to tyres: Technical data for agricultural tyres – Agricultural tyre performance – Air pressure advice, Solutions to avoid soil compaction – Sprayer tyre pressure – Why and how to ballast your tractor tyres – etc.
To take it one step further and increase the profitability of your farm, les Experts du pneu provide a free, highly detailed eBook which explains the essential role of the agricultural tyre in your productivity.
Most people who read this article have also read some of the following articles which are listed by order of popularity: